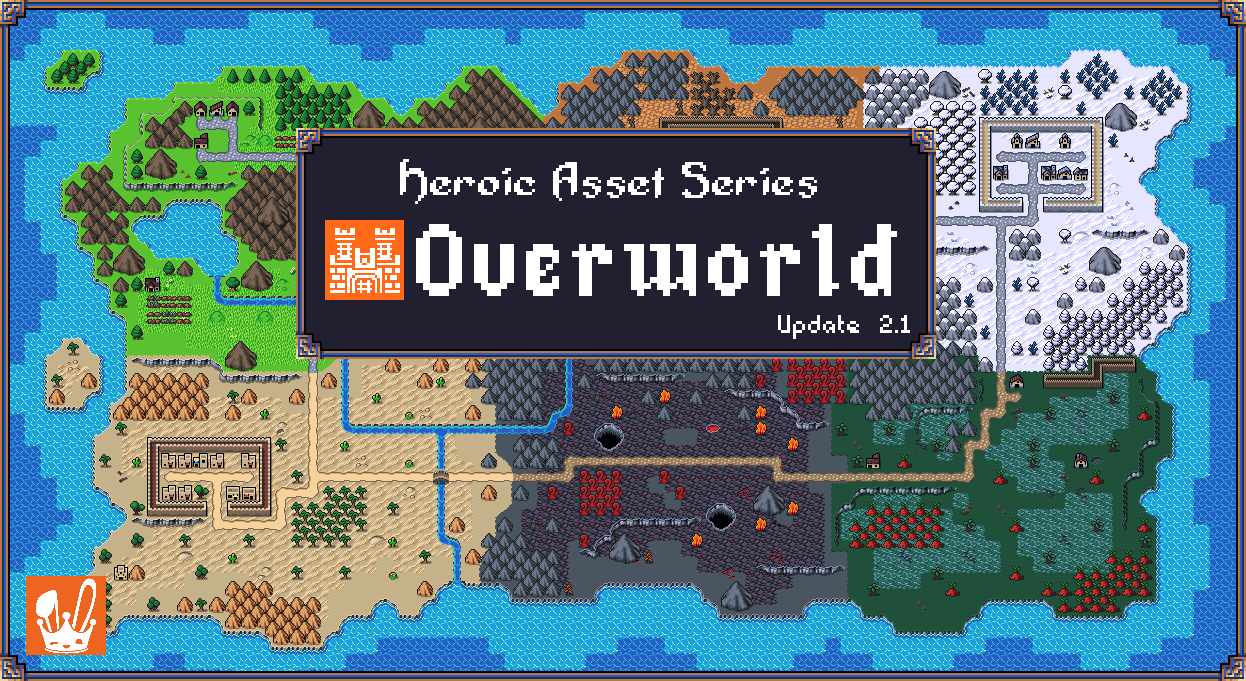 Heroic Asset Series: Overworld
A downloadable asset pack
This tileset contains 16×16 pixel tiles for creating heroic style maps great for any game developer to create there very own strategy or RPG game.
Overworld Update 2.0
New completely redrawn 6 biomes with autotile capacity

Grass biome
Winter biome
Dirt biome
Desert biome
Swamp biome
Inferno biome

New animated rivers and coast
New decor objects (new 21 trees in unique designs, the mountains, even more small decorative elements)
Textured Tiles (grass, snow, rock, sand, swamp)
Update 2.1:
Classic Overworld Included 1.1.2
Actual Content:
Tileset in .PNG format
6 biomes with autotile capacity

Grass biome
Winter biome
Dirt biome
Desert biome
Swamp biome
Inferno biome

Animated rivers and coast
Mountains, trees, bushes and other small elements of decor (like a stumps, small plants and rocks)
Roads and bridges
100% supported Unity and GameMaker
Update 1.1:
High ground
Sources of rivers
New roads and bridges
Buildings and walls
Universal tiles, now you can use all elements of the decor without binding to the biome!
Lava lake and Frozen lake (And river too!)
Update 1.1.2
New universal tile connectors (Thanks Neurisko)
Universal biome tiles.
Wait for new updates.
Examples:
| | |
| --- | --- |
| Classic Overworld | Overworld 2.0 |
| GrassLand: | GrassLand: |
| DirtLand: | DirtLand: |
| SandLand: | SandLand: |
Licence:
You may not host the contents of this zip file in whole or in part on any publicly avaliable server, unless as part of a game or similar product.
You are granted the right to modify the artwork to suit your Product. Remix, transform, and build upon the material for any purpose, even commercially.
If you use this material in a game or other product, please give attribution to Aleksandr Makarov in the credits.
Check out my other game assets in this series:
Check out my other series of game assets:

Thank you for purchasing and downloading this pack! I'm grateful to you for it, as drawing is my main job!
Unfortunately, I'm unable to receive money for sales (Just read this letter). All my accounts have been frozen, but that doesn't mean I will stop creating content!
If you really want to support me:
Become my patron in Boosty (The only source of my income)
Tell everyone about this asset!
Follow me on Twitter
Do you want to help me me personally or offer a job? Write a letter
You can still be my Patron in Patreon.
Make a game with my asset.
Be sure to create the game of your dreams, I believe in you <3 Knowing that you are using my graphics pack to make games motivates me to keep working hard!
If you want to see me create my graphics assets live, come to the stream, I'm probably streaming right now <3 <3
https://www.twitch.tv/i_know_king_rabbit
That's all!
Purchase
In order to download this asset pack you must purchase it at or above the minimum price of $10 USD. You will get access to the following files:
HAS Overworld 2.1.zip
2 MB